Anima Mundi Cerebrum Tonic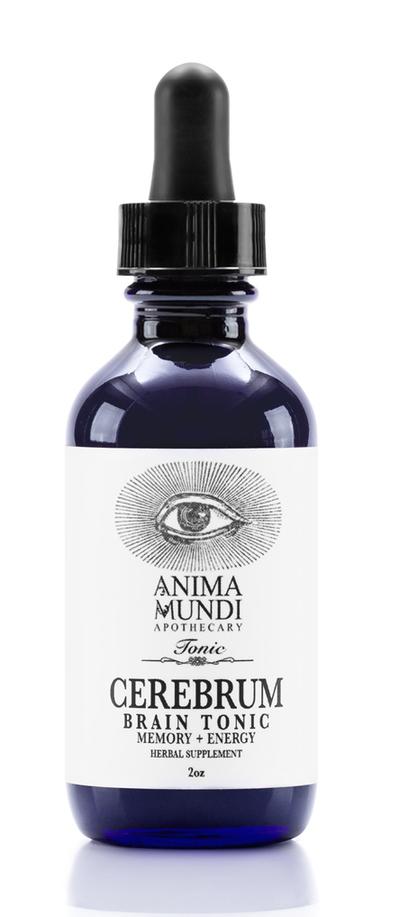 Anima Mundi Cerebrum Tonic
ADAPTOGENIC BRAIN TONIC
A therapeutic and deeply nourishing brain formula. It brings circulation to brain tissue, enhances clarity, regulates hypothalamic response, and boosts pituitary function. It naturally uplifts the body, acting as a mild energizer enhancing clarity and memory. Also acts as a nervous system regulator.
The herbs in this formula have been extensively studied for their ability to stimulate nerve growth factor (NGF) which inhibits brain dysfunction associated to potential neurological diseases. This formula relieves a depressed system caused by over-stressed and under-nurtured patterning, creating a deep adaptogenic platform for regeneration.
Ingredients: Lions Mane Mushroom* (Hericium erinaceus), Brahmi* (Bacopa monnieri), Gingko*(Gingko Biloba)*, Gotu Kola* (Centella asiatica), Rama Tulsi* (Ocimum tenuiflorum), Fresh Rosemary* (Rosmarinus officinalis), extracted in 25% biodynamic cane spirits, vegetable glycerine in filtered water at a 10:1 ratio.
ESSENTIALS:
*Our Lions Mane is organically grown in Washington State in a small farm.
*Our Brahmi, Gotu Kola and Tulsi are organic and sustainably grown in India. We work directly with the farmers in India to ensure that its an excellent harvest produced under our own standards. Our golden Gingko leaf is grown in North America.
*Vegetable glycerin is from organic coconuts (soy free)